How Do I Rent a Dumpster?
Let us walk you through the rental process:
Call for a free quote. Speak to one of our team members and they will request what type and volume of debris you will be collecting, and then they will give you an accurate quote for your Orlando residential dumpster rental.
Get upfront pricing. We pride ourselves on providing upfront pricing for our complete packages. Delivery, disposal, and pickup are all included in your rental package. There will be a list of things we cannot accept in our dumpsters and our team will let you know what they are, or you can check the list below.
Schedule delivery. Our deliveries are prompt to ensure that you can begin your project immediately. Setting the dumpster in the correct place will help your project go smoothly and we offer delivery tips and information to help you have a successful drop off.
Call for pickup. Your Orlando residential dumpster rental has reached its max and you are now finished with it. Simply give us a call and we will promptly schedule your pickup on the next available business day.
What Items Cannot Go in the Dumpster?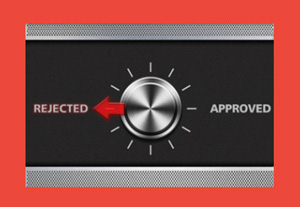 BATTERIES –We do not allow any type of batteries in our dumpsters. This includes alkaline, auto, rechargeable, and lithium batteries.
ELECTRONICS – Televisions, VCRs, computers, and printers or any other technology.
PAINTS and FLAMMABLE SOLVENTS – Due to the requirement of special treatment, lead-based paints and oil-based paints, paint thinner, solvents, and flammable materials are not permitted in the rentals.
GAS and OIL – Gasoline, motor oil, lawnmower fluids, lubricants, chemicals and other petroleum based products
APPLIANCES – From small appliances to larger appliances such as microwaves, stoves, refrigerators should not be discarded in dumpster.
PESTICIDES – Both liquids and granules
LIGHT BULBS – Neither incandescent nor fluorescent bulbs cans be discarded in dumpster.
TIRES – Vehicle tires are not allowed
PRESSURE TREATED LUMBER– Chemically treated lumber or fencing can not be disposed of in dumpster.
FOOD WASTE – Though accepted in landfills, food waste is not allowed in our dumpsters. Please use municipal trash services for your household food waste.
TREE STUMPS – Prohibited because the damage the liners in landfills. To dispose of stumps check with your local recycling center or hire a landscaping service.
HAZARDOUS MATERIALS
WE DO NOT TAKE CONCRETE OR DIRT.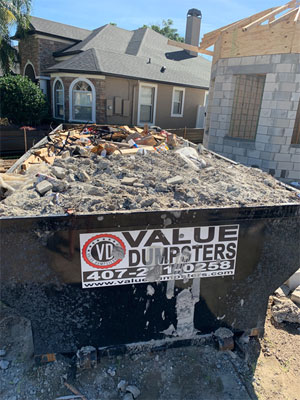 PLEASE DO NOT OVER FILL DUMPSTER. 
DEBRIS MAY NOT GO ABOVE THE TOP EDGE OF CONTAINER.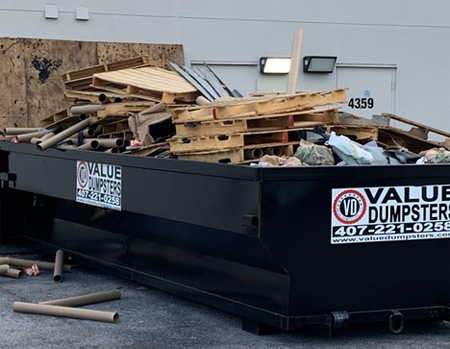 DO NOT BLOCK CONTAINER AT ANYTIME.
*ANY OF THESE THINGS LISTED ABOVE WILL RESULT IN A TRIP CHARGE. WE WILL ASK YOU TO EMPTY DUMPSTER TO THE CORRECT LEVEL AND TAKE OUT THE DEBRIS WE DO NOT ACCEPT BEFORE WE REMOVE IT.
What Size Dumpster Do I Need?
In order to help you find out which dumpster size will fit your needs, we will need to know how much debris you estimate to have. We offer dumpsters sized from 10 to 20 cubic yards to fit the debris from your project. If you are still not sure, you can refer to the chart provided below to ensure the correct size. After you have decided, or if you have any questions, please feel free to give us a call. Once we speak to you and schedule your delivery, our Orlando team will deliver your residential dumpster rental to your construction or residential location. Keep in mind, we are available for same day delivery to make your life easier.
Dumpster dimensions may vary. Please note these sizes are approximate.
10 Yard Dumpster
10′ long x 7′ wide x 4.5′ high
10 cubic yards of material, roughly equivalent to 3 pickup truck loads of debris.
15 Yard Dumpster
12′ long x 7′ wide x 4.5′ high
15 cubic yards of material, roughly equivalent to 4.5 pickup truck loads of debris.
20 Yard Dumpster
22′ long x 7.5′ wide x 4.5′ high
20 cubic yards of material, roughly equivalent to 6 pickup truck loads of debris.
Ready to Rent a Dumpster?