Working on the job means a lot of clean-up during and after the project. Value Dumpsters in Orlando offers construction dumpster and roll off services to make the process easy! When you have someone to help you handle the clean-up, you can spend more time working on the job rather than worrying about how to properly dispose of any leftover debris. We have several different sized dumpsters so you can pick the best one that works for your needs. Whether you want to haul away plastic wrapping or raw materials, we have the resources to ensure the job gets done quick and easy.
At Value Dumpsters, an Orlando based construction dumpster and roll off service company, we offer low and competitive rates with same day service, in almost every case. Our rate includes the delivery of your dumpster, rental, pick-up, and the dump fees. Unsure of the size of dumpster you need? Our team of experts can help you pick which size will best suit you, depending on the scope of your job or project. When it's time to finish up, we will haul away the dumpsters and dispose of any construction site debris, so you don't have to! Value Dumpsters has been providing the communities of Central Florida with construction site debris removal for 30+ years, and we always have our customers' needs in mind.
Our team is licensed and insured, so you never have to worry about the quality of services you are being provided. When you need construction dumpster and roll off services in Orlando, contact Value Dumpsters.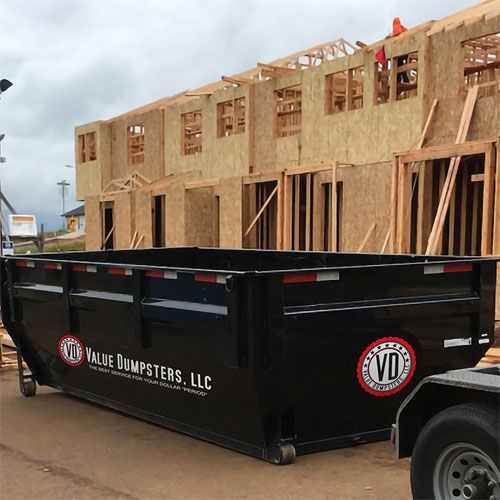 Ready to Rent a Dumpster?