At this point, you've recognized that you need a dumpster, but probably need some guidance on which one to rent to fit the needs of your project. Here at Value Dumpsters, our Orlando dumpster services provide an easy and affordable full-service drop-off and pickup service. To accommodate your needs, we are stocked with many different sizes of dumpsters for rent, making your project a breeze. Discover the different dumpster options we have available:
12 Yard Dumpster
This is the smallest dumpster that we carry and is great for smaller projects or if you're working within a tight space. The 12 yard dumpster is ideal for purging the attic or cleaning up debris after a relatively basic construction renovation. It can hold up to 3 pickup truck loads, and with its smaller stature, it can fit almost anywhere.
15 Yard Dumpster
Our 15 yard dumpster is our mid-size option. It can hold 4.5 pickup truck loads and is great for cleaning up after a small home renovation or disposing of light demolition materials. Though larger than the 12 yard dumpster, it still remains low in height, making disposal of debris very efficient and easy.
20 Yard Dumpster
This is our biggest option and can hold 6.5 pickup truck loads. The 20 yard dumpster is useful for larger projects such as roofing, remodeling, and small-scale demolitions. If you're looking to purge the junk that's cluttered in your home, this is a great option for you.
Give Value Dumpsters a call today to speak with an expert to answer your questions about our Orlando dumpster services and dumpsters for rent.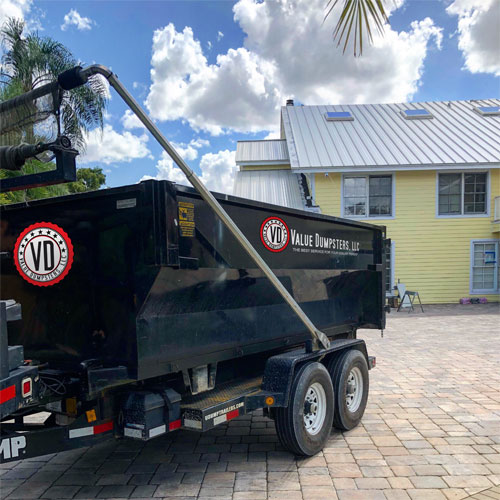 Ready to Rent a Dumpster?